Sea Breeze Wholesale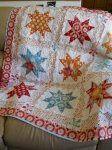 Starcakes - Digital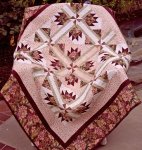 Sugar Bears

Not your ordinary Bear Paws. These colorful Bear paws are quick and easy and accented by Pinwheels. With a slight color change in the middle the blocks have a shading surprise that is very special.


Summer Celebration Digital

This large block is put together in sections making it quick and easy. The fun technique for the star is done with simple templates (and I mean simple). I'll show how to make the quilt larger or a wonderful smaller Table Topper. This truly a celebration o


Summer Rain

This table topper is a very good choice for a beginner, we easy 4 patches and half square triangles!


Tangerine Treat Digital

This charming quilt has two sizes for the block and add a special printed fabric to bring the colors in the 9 patch out to play!


Violet's Valentine Digital

Lovely shades of lavender and yellow with a sparkle of white floral. The heart construction is simple patchwork piecing turned on point, finishing with a diamond tip. To create drama, add the lattice border completely pieced with ease.


Warm Romance Digital

Soft, warm florals in two color choices wrapped in style!


Watermelon Stars Digital

A lovely design of pinks and greens highlighting a charming star.


Wild Stars Runner Digital

Funnest Star Runner ever! 3 or 4 blocks with quick piecing tricks!