Ladylike provides as many kits as possible to match my quilt designs. I can usually purchase or collect enough fabric to make a few more kits when I design a quilt. When they are gone, its hard to get more fabric, but I can match the colors and designs down to the last detail. take a look at the variety of kits I have available as they are all reasonably priced and sell quickly.
Basket Beauties Table Runner

Dreamy mini baskets set on point in a table runner.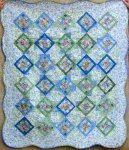 Blue Meadows

Soft and gentle colors of blue and green for a refreshing style..


Criss Cross Flowers

To make the sweetest quilt, use these simple pieced blocks made from a variety of florals. The block is combined with strip sets and four patches, which take no time to make. With a lot of color and charm, you have a beautiful classic to last forever.


Pocket Pillow

A simple square of fun fabric becomes a gorgeous pocket for Pocket Pillow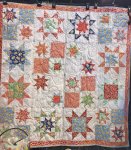 American Picnic Quilt & Kit

My All American Picnic Quilt is a perfect treat for any holiday or summer event!


Basket Babies Kit/Gift

Color Table pads or mug rugs for quick holiday gifts!


Camille Kit

A perfect spring delight for your home.


Candy Drop Kit

The perfect fabric to make and brake this design!!


Candy Heart Pattern & Kit

Single pieced hearts are surrounded by soft, floral strips to form a log cabin block.


Cherry Delight

No cherry fabric but lots of delight! Designed with a simple inside pattern that carries to the outside with a color change – a great choice for stash. Finish with an inside scallop border that sets the pattern off just right!


Christmas Romance -Kit

Christmas and Romance they always go together. This quilt is a blend of vintage holiday fabrics and romantic patterns. I have enjoyed making each block as they are all different. To get you started I have provided a tutorial on my website.


Dresden Dreams Pillow/Mat

Love those dresdens! A kit for a pillow or a mat or both!


Dresden Kits

I created a BOM called Dresden Dreams and then built many designs using dresden - so fun!


Garden Party

A garden of color....


Holiday Table Mat

Sweet Dresden Table Mats make a charming addition to any holiday table.


Modern Candy

Two bright shades one simple block! This quilt has very interesting lines made with strip piecing techniques. Perfect for your favorite scraps or collection of colors you've dying to use. The border has this great finishing touch and a sweet trim.


My Daughters Garden kit

Kit includes a colorful collection of brights and pastels with a soft floral background and matching border.


My Small World Fabric Kit

Fabric Choices for My Small World quilt class


Nine Patch Fun Kit

2 various sizes of 9 patches and fill with fun and color - accented by a complimentary floral or print. To finish with charm add a fun prairie point border that's easier than it looks. Perfect for a college student!


Quilted Roses - Quilt Kit

Easy fusible applique to be done in a weekend!


Random Hearts

A pieced heart quilt in 2 different sizes.


Random Hearts - Topper

A pieced heart topper in 2 different sizes.


Random Hearts Class

A pieced heart quilt in 2 different sizes.


Romantic Rose

Warm, comfortable colors in a simple strip set block....


Sea Breeze Quilt Kit
Sweet Heart Mug Rug

Sweet, Easy mug rugs in my signature heart design.


Tangerine Treat Kit

This charming quilt has two sizes for the block and add a special printed fabric to bring the colors in the 9 patch out to play!


Wild Stars Runner Kit

This fun block became a treasure with a quick and fun color play.